Volt Tattler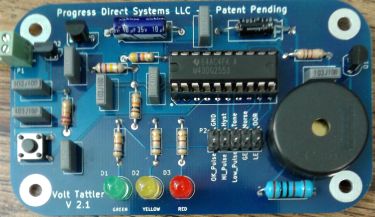 The Volt Tattler 2 is a microcontroller based D.C. system voltage monitor with programmable voltage thresholds to monitor and warn of power system problems. This simple but very useful kit is ideal as a novice construction project and every home and portable station should have one.



Simple through-hole construction
Draws only around 1 mA in normal use.
Reverse polarity protection.
Thresholds programmable over a range of 4V to over 27V.
Single button programming with audio feedback.
Audibly announces activation at power on and indicates it is monitoring with a flashing green LED.
Audibly announces by Morse code when input voltage exceeds user programmed thresholds.
Flashing Red and Yellow LEDs indicate that a voltage limit has been exceeded.
3V digital status signals are available on a header
Cheap protection for all low voltage DC equipment.
Supporting Files and Documents

Volt Tattler Owners Manual v2.00



To order this kit, use the buttons below. (you do not have to have a PayPal account to pay for items using a credit card)



NOTE
Use Add to cart buttons to add an item to your shopping cart. Use "Continue Shopping" tab to go back and add multiple items to your cart. You can view shipping charges before making payment. Payment can be made by Credit Card, Debit Card or by Paypal. Selecting "Checkout" in your shopping cart will allow you to use a credit card rather than Paypal Please be sure the address you supply is correct. We receive an automated notification when you complete payment. Your order will be shipped as soon as possible unless otherwise stated. Thanks for your support!