Welcome to QRP Kits




Update: April 15, 2015

We very much appreciate everyone's patience as we get things up and running.

It is taking more time than we anticipated to move in, unpack and do an inventory and this will require us to delay taking orders a bit longer.

We are targeting being ready to process orders by May 1 at the latest and if possible, before that date.

Due to our workload, responding to email will be difficult during this time and we will update the website as things progress

Thanks and 73

James and Kathy


---
---
Hendricks QRP Kits Warranty Policy
Hendricks QRP Kits strives to offer the best quality, affordable, kits available in today's market and make your kit project a complete success. We have confidence in the quality of our designs and in the performance of our components. In keeping with this tradition, we will replace any electronic component, for the life of the product, for any reason. If you lose, damage, burn out, or install a component in error, that requires a replacement, simply contact us, pay the postage or shipping, and we will replace it. This is in addition to our previous practice of replacing any component missing from our kits, shipped first class mail, free.
To our knowledge, no amateur radio company offers this comprehensive policy.


---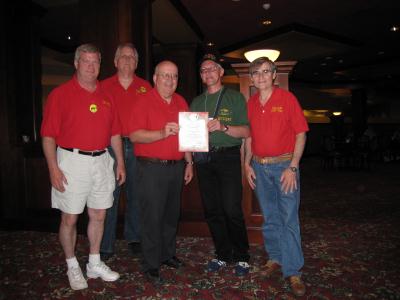 Hendricks QRP Kits being presented with an appreciation award to the QRP community on behalf of the Russian QRP Amateur Radio Club, by past president, Oleg V. Borodin RV3GM, during his first trip to the United States, for Dayton 2009.
May 14, 2013 Hendricks Qrp Kits is pleased to announce 4 new products this year at Dayton. We have a couple of new designs from Dan Tayloe, the Tayloe Simple Receiver which can be built for either 30 or 40 meters. It is vfo controlled and is a superhet. This radio is designed for both the experienced and the first time builder. It has excellent specs, and is another quality design from Dan Tayloe. Dan also designed the Tayloe Simple Transmitter, which is intended to replace the Twofer in our lineup of kits. We are offering it first on 10 Meters, and it exceeds all FCC specs. This was a problem on 10 meters for the Twofer, and since Dan was designing a transmitter for 10, we will develop it for the other bands later in the year. Joe Everhart has updated the Accuprobe, and Ken LoCasale has repackaged it similar to our Signal Tracer. The accuprobe is a very accurate probe that will measure very low level signals. A great design by a great designer. Ken LoCasale has added a Two Tone Test Generator to our lineup of test equipment. This is especially useful for tuning up our new SSB kit,


March 1, 2013 Please note that there are new manuals for both the Weber Tribander and Survivor 75m SSB transceiver.


May 12, 2012 Due to far too many problems with customs and the Italian post office, Hendricks QRP Kits will no longer ship to Italy. If you live in Italy and wish to order from me, you must give me a US address to ship to. This is effective immediately. 72, Doug


April 6, 2012 Steve Weber has done it again. Hendricks QRP Kits is proud to announce Steve's latest kit the Weber Tribander. This is a great radio and it has a great price!! $200.00 for 3 bands of your choice, from 15, 17, 20, 30, 40, or 80 meters, and it comes with a punched and drilled case with a bail, digital readout, DDS VFO, RIT, Audio Derived AGC, built in keyer with memories, Rotary Encoder Tuning, 4 IF crystal filtering, 600Hz audio filter, small size 6"W x 4"D x 1.5"H, weighs 12 ounces, and draws 90mA on receive and 600/800mA on transmit at 5 Watts. All bands are 5W output.


April 5, 2012 Hendricks QRP Kits is pleased to announce the commericial version of the SMK-2 transceiver. The SMK-2 is a commercial version of the highly popular SMK-1 that sold over 2000 kits several years ago by the NorCal QRP Club. It was designed by Dave Fifield, AD6A who updated the board for the improvements to the SMK-2. The SMK-1 was developed to prove that hams could build a transceiver with surface mount parts after several claims were made that it could not be done. What happened was that many, many hams discovered that working with surface mount parts was not difficult at all, in fact , many reported that they preferred smt when they got used to it. The SMK-2 is a training excercise that results in a very usable 40 meter direct conversion transceiver that is capable and has worked all states.

We have improved the SMK by adding a case designed by Ken Locasale, WA4MNT, and have added through holes for the toroid which makes it much easier to mount. Also, we have added sip strips to use as a crystal socket, and ship the rig with 7.030 crystals. The cost is $50.00 plus shipping and handling.


February 10 15, 2012 The Dual banders are sold out!


January 15, 2012 We have added another test equipment kit to the lineup at Hendricks QRP Kits. Ken LoCasale has used the step attenuator circuit in the ARRL Handbook as the basis of a 41dB step attenuator. The kit comes in a custom case, and is complete with all parts needed to finish, including a commercial quality double sided, solder masked and silk screened pc board. The attenuator uses a pi net work of 2W resistors, and will handle 5 W. Attenuators are great to use to work low power, and are the easiest way to make very low power contacts. Check out the manual at www.qrpkits.com. Kits are in stock and ready to ship. The price is $50 plus shipping and handling.


You Are Visitor No.