Wall Wart Tamer V2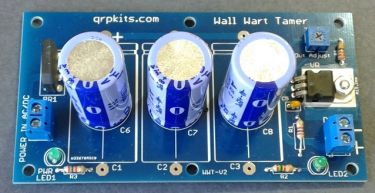 The Wall Wart Tamer lets you utilize those surplus computer and wall pack power supplies as a adjustable sources of clean DC power for radios and equipment.

The Wall Wart Tamer is a simple device designed to filter input power and remove most of the receiver "hash" noise that results from common wall warts and laptop supplies, especially switching supply types.

The project itself is straightforward and if you follow the steps you will have a working Wall Wart Tamer module putting out CLEAN DC power when you finish.


Takes in AC or DC and provides clean, adjustable DC output
Reuse those surplus wall warts or computer supplies as DC power sources
Bridge rectifier, Capacitive filtering and LM317 Adjustable Regulator
Recommended Input voltage range of 5-25 Volts
Output adjustable from 1.25V to approximately 3V below the input voltage
Supplies up to 1.5A current
Board size of 2.3" x 4.3"
Supporting Files and Documents

Wall Wart Assembly Manual V2 (5/15/2017)



To order this kit, use the buttons below. (you do not have to have a PayPal account to pay for items using a credit card)



NOTE
Use Add to cart buttons to add an item to your shopping cart. Use "Continue Shopping" tab to go back and add multiple items to your cart. You can view shipping charges before making payment. Payment can be made by Credit Card, Debit Card or by Paypal. Selecting "Checkout" in your shopping cart will allow you to use a credit card rather than Paypal Please be sure the address you supply is correct. We receive an automated notification when you complete payment. Your order will be shipped as soon as possible unless otherwise stated. Thanks for your support!